If you missed my previous recommendation post, feel free to take a moment to explore some of those Kindle Unlimited reads that perfectly blend fantasy and romance before reading on. This post hits the more science fiction end of the speculative spectrum, which I'll admit is a bit sparser if you like realistic, tough heroines leading the charge. In mainstream fiction, these authors are the successors of women like Elizabeth Moon and C.J. Cherryh and…okay, my mind when blank when I tried to think of anyone else. I hope you'll take a minute to comment with your own favorites in this category because I'm always looking for more!
Steampunk
Wrecked by Meljean Brooks is is a novella that reminds me of The Princess Bride…with zombies and air ships.
The Kiss of Steel by Bec McMaster is my favorite kind of paranormal fantasy/romance/steampunk. Both hero and heroine are troubled and fascinating, the worldbuilding is unique, and there's enough mystery to really keep you turning pages. This is the first book in a series, but each novel follows different main characters and can easily be read as standalones (which is a good thing since only two are enrolled in Kindle Unlimited).
Post Apocalyptic
Ice Diaries by Lexi Revellian is the perfect blend of the end of the world and the beginning of a relationship. Imagine that a pandemic knocks out most of the world's population and a shift in the jet stream drops sixty feet of snow on London. With plenty of supplies free for the taking, the biggest problem is adapting to this strange new world…and deciding what to do with the half-frozen, thug-like, but handsome man who shows up face-down in the snow on your doorstep.
Spark Rising by Kate Corcino is another post-apocalyptic doozy. This time, imagine a future in which the power grid is down…but select humans can create electricity within their own bodies. There's a damaged but strong heroine, an enticing love story, and some of the best world-building I've read in a while. I'm aching for book two.
Science Fiction
Shades of Treason is really a space opera, but the author calls it "urban fantasy in space." There's mind control and attraction working against each other in agonizingly perfect ways. You won't want to pass this one up! (Drat, I think this one has popped out of Kindle Unlimited. Maybe it'll come back?)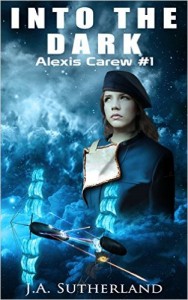 Into the Dark by J.A. Sutherland made me break my rule of never reading books by men. I know it sounds sexist to have such a stance in the first place, but the female characters in books by male authors often seem just the slightest bit off and the story lines themselves strike me as cold. Sutherland is the exception that proves the rule. I swallowed this book and its sequel over the course of a couple of days.
Dark Horse by Michelle Diener is a thought-provoking and gripping story about first contact, artificial intelligence, plus a realist and delightful love story.
The Star King by Susan Grant is science-fiction romance, a bit saggy in the middle but the later books are better.
Mercenary Instinct by Ruby Lionsdrake is probably the best known science-fiction romance writer. Although heavier on the sex scenes than I usually prefer, I can't put her books down.
Next week I'll move on to the real girl genres — romance and women's fiction. Stay tuned!