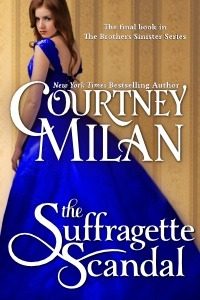 Ready for one last book-recommendation post? This selection is intended for the romance lovers who don't necessarily need any magic in their books beyond the sparkle of a perfect love story. Without further ado, here are my top picks from a summer of romance.
All of Linnea Sinclair's books are top-notch science-fiction romance, in my opinion, but my favorite so far has been the series-starter Gabriel's Ghost. If you enjoy space opera but wish the mainstream offerings had a bit more of a love story, then these books will be a great fit for you.
Continuing along the geeky route, Kelly Hunter's The Courage of Eli Jackson is a tight love story between a heroine who adores cosplay and a boatbuilder hero. The novella is well written and left me wanting more…in a very good way.
You can't go wrong with any book in Courtney Milan's Brothers Sinister series, but The Suffragette Scandal is the best of a good lot. The characters were perfect. The history was fascinating. The feelings were spot on. How soon will I forget it so I can read it again?
Finally, Amanda Quick's Ravished reminded me of many of the delightful parts of the Amelia Peabody series, with a historical setting and a heroine interested in paleontology (instead of Egyptology — close enough!). Definitely a suck-you-in, feel-good read.
I hope that's enough to keep you busy for a week or two. And I hope I don't forget to report on my favorite reads for five months next time! Happy reading.