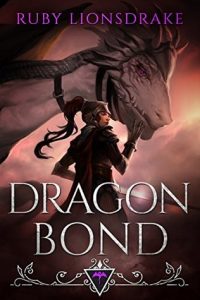 In my previous post, I regaled you with the best traditionally published fantasy I've read over the last few months. But I hope that doesn't make you think I turn my nose at indie fare! In fact, the books in this post are every bit as good (and considerably cheaper) than the ones previously reviewed.
My favorite of the season was Dragon Bond by Ruby Lionsdrake. Whether writing under this pen name or as Lindsay Buroker, this author always delivers action-packed adventures with just the right amount of romance. This new series starter (or possibly standalone?) adds in dragon shifters — what more could you possibly want?
A very close runnerup is Marina Finlayson's new series starter Stolen Magic. Thieves, shifters, an underdog heroine, the hint of an intriguing romance, and plenty of adventure kept me flipping pages faster and faster. I can hardly wait for book two!
Magic of the Gargoyles by Rebecca Chastain is fast and perfect and a great introduction to the protagonist's world. A unique magic system, a quest to save the innocent, and some very adorable baby gargoyles — what more could you want?
On the young adult front, Cady Vance's Bone Dry sucked me in with shades of Veronica Mars mixed with an intriguing and unique magic system. How could I not want to read about a heroine trying to save her mother…while conning high school friends to

pay the bills?
Pippa DaCosta's Beyond the Veil (FREE on all retailers) contains a really great heroine who's capable but also flawed, plus fascinating world-building interspersed with lots of action. It's a little bit on the dark side, but if that doesn't bother you I suspect you'll find this urban-fantasy series a perfect one to sink your teeth into.
Finally, speaking of FREE indie reads, don't forget that I pulled together several of my favorite urban-fantasy novels into a box set that's free on all retailers. Why not check out Moon Magic and dive into half a dozen unique and intriguing new worlds?