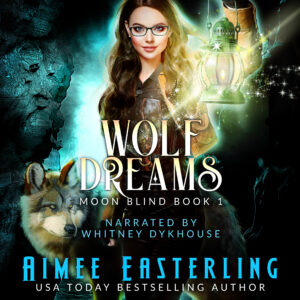 I'm so excited to be able to share both Wolf Dreams and Moon Dancer with you for a twelve-hour gulp of werewolves, archaeology, adventure, and romance! Whitney Dykhouse blew this reading out of the water, making this my favorite series adaptation yet. So, if nothing else, I highly recommend you take a listen to the sample above.
Like my Moon Marked series, the Moon Blind audio duology is available everywhere (including your local library)…or it will be. There seems to be some major delay going on at ACX (the author side of Audible and Amazon). After waiting a solid month for Wolf Dreams to go live, I gave up on a synchronous release and uploaded both audiobooks to the other retailers for immediate gratification. Bonus: they're only $7.99 apiece on Apple at the moment, which is dirt cheap!
Happy listening!
7/30 update: Wolf Dreams is now on Amazon and Audible. Moon Dancer might take a while though….