While I strongly believe that you need to become good at your craft to succeed as an author, very few people will actually see your perfectly honed book unless you put in the time to get the book in front of the public's hungry eyes. So part two of my series for aspiring authors covers the flip side of the coin — marketing your work.

Listing a book for sale
If you have no clue how to take the file on your computer and turn it into a book available to be bought, these titles provide a good place to start.
Let's Get Digital — This title covers why it's probably better to self-publish rather than querying agents and publishers if you want to make a living at this gig.
10 Step Self-Publishing Boot Camp — I highly recommend this book for the beginning author since it walks you through many of the current best practices to turn your manuscript into a book-for-sale.
Gotta Read It and How to Write a Sizzling Synopsis are both great books for polishing a blurb. (Read them in that order!)

Marketing basics
Next up are the basic recommended practices for taking that book-for-sale and turning into a book that's actually selling.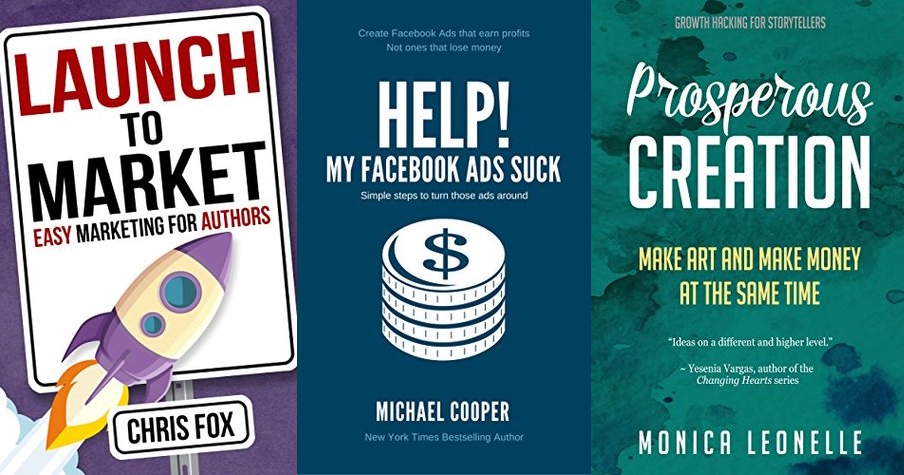 Diving in deeper
Okay, now you have a mailing list, understand how and when to put your book on sale and book ads to promote the price promotion, and have decided whether to stick to Amazon or go wide. What's next?
Chris Fox's Write Smarter, Write Faster series is particularly good at helping you analyze how your book fits into the broader market and how to tweak subsequent books to better fit into their niche.
Prosperous Creation — The beginning of this book turned me off, but there's good stuff later on about how to turn your writing income into less of a boom-and-bust cycle.
Help! My Facebook Ads Suck — If you hang around in author circles, you've likely considered signing up for Mark Dawson's extremely pricey facebook ads course. I tested out both the course and this book and preferred this book. On the other hand, if you need a lot of handholding and prefer to learn in a video and forum format, Mark Dawson does have a FREE three-video starter course available on his website if you sign up for his email list.
How about you? Are there other marketing books (or courses) that have really floated your boat? If so, I hope you'll click on the facebook link and comment below!