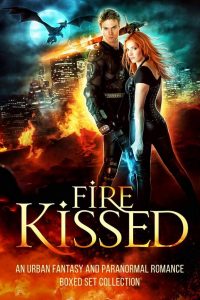 I'm excited to announce that the Fire Kissed anthology is now live on Amazon and FREE to borrow with Kindle Unlimited! This box set contains a lucky thirteen never-before-published novellas by urban-fantasy and paranormal-romance authors…including myself.
My contribution is Incendiary Magic, a short but action-packed prequel to the Dragon Mage universe. Fee is a fire mage with an impossible mission — infiltrate the home base of her dragon overlords and destroy them. You can try out the first chapter here.
But I hope you don't just buy the box set and skip straight to my story. I haven't read all of the other contributions yet, but the blurbs alone have me waiting with baited breath to sit down with my kindle this evening and give them a try. There's a high-stakes poker game, an accidentally kidnapped not-quite-bride, and lots and lots of dragons. Plenty to keep me busy long into the night!
The anthology is only up for three short months, so don't delay. Grab your copy here and enjoy!