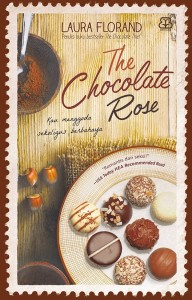 I have a love-hate relationship with the romance novel. On the plus side, the genre is, by definition, full of character-driven stories — my favorite kind. On the downside, most romance novels leave me feeling like I gorged on cheap Halloween chocolate — sweet in the instant but more prone to leave me with a tummy ache than that happy book glow I'm going for.
Enter Laura Florand. Florand is on the very short list of authors whose books I'm willing to pay full price for. Her characters are perfect, but her settings and writing are even more engaging. For example, her Amour and Chocolat series is set in Paris and each hero is a top chocolate chef. From the first page, I was completely sucked into the high-action world of Michelin starred restaurants along with the intricate art form that chocolate becomes in that environment. The books are all standalone, so you can read them in any order — I recommend either starting at the beginning (The Chocolate Thief) or with my favorite (The Chocolate Temptation).
Or, if you don't want to ruin your appetite with sweets, Florand's La Vie en Roses series is nearly as good. Actually, I felt like the first book in the series — Once Upon a Rose — was even better than the chocolate books. I'm not a perfume fan, but the idea of a valley of rose bushes grown for careful harvest by the scent industry was immensely vivid and fascinating.
I'll admit up front that Florand's books aren't cheap. But they're worth every penny! I save them to be savored when I really need a boost and always come away feeling that I've gotten more than my money's worth. I hope you enjoy them as much as I do!