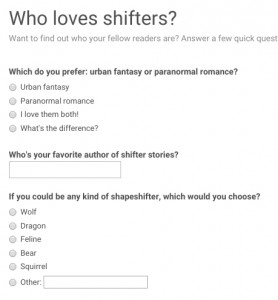 I write a lot about my characters and even a little bit about myself…but I think about you guys just as much. It's so satisfying when I see new reviews or know that someone has bought one of my books. And yet, I sometimes find myself wondering — who are you really?
So, if you've got a minute and want to make my day, I hope you'll fill out this short, fun survey. None of the answers are mandatory, so if you don't want to reveal whether you prefer dragon shifters over squirrel shifters, you can still play along. And, at the end, you can see what everyone else thinks too.
I'm looking forward to getting to know you all a little better. Thanks for playing! And feel free to answer any question I should have asked but didn't here in the comments.