Are you reading on a budget? Or want to try before you buy? I have several books available for free, which I bundled up into two box sets for easy downloading.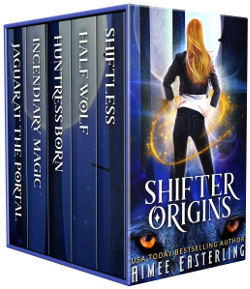 Shifter Origins includes:
Shiftless – After years of suppressing her inner wolf, Terra struggles to forget her pack. But when her past finally comes calling, she has no choice but reclaim the predator within.
Half Wolf – When half-shifter Fen is cast out of her home pack, she and an unlikely ally are forced to shore up her waning power in an effort to save half-breeds everywhere.
Huntress Born – Werewolf and baker Ember leaves her pack to hunt for her missing half brother. But with danger growing on all sides, it's only a matter of time before she gets burned….
Incendiary Magic – A dragon shifter's treasure turns traitor when secrets ignite. Dive into a new series of standalone romantic fantasy with the Dragon Mage Chronicles!
Jaguar at the Portal – Ixchel is a lonely veterinarian fleeing from her past. Finn is a were-jaguar hunting for his future. Together, they are unbeatable.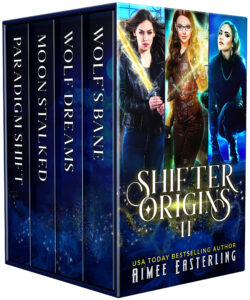 Shifter Origins II includes:
Wolf's Bane – Mai Fairchild will do anything to protect her sister — even if it means accepting a dangerous job with a werewolf who would kill her if he knew her true form….
Wolf Dreams – Olivia has hidden her darker side ever since biting through the lip of her first date. Fourteen years later, her dream of being an archaeologist is unlocked…but her darker side wants out.
Moon Stalked – Honor is a woelfin who wraps herself up in her pelt in order to fall onto four paws. But when her cousin's pelt is stolen, she's forced to team up with her greatest enemy to get it back.
Paradigm Shift – While scouting his new territory, a fifteen-year-old alpha discovers strange scents wafting up out of a hole in the ground. Are there vampires living beneath his turf?
Still not enough reading material for you? Then check out the free stories I've posted on my blog. Or sign up for my email list for even more exclusive extras. Enjoy!