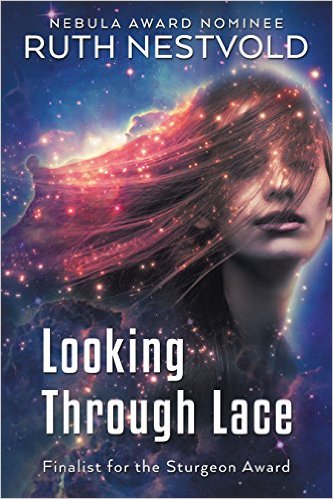 I've thrown a few book recommendations at you recently in the form of alerts about freebies or sales, but I'm overdue for a post about the true cream that has risen to the top over the last few months. The books in this post really hit the spot and I feel the need to shout their praises from the rooftop. Hopefully a blog post will sate that urge.
Looking Through Lace by Ruth Nestvold is the most surprisingly perfect book I've read this spring. It's short — only 79 pages — so better to borrow with Kindle Unlimited than to buy. But the tight, intricate plot feels much larger than the page count attests. I don't want to spoil it for you, but will say it's a character-driven, soon-after-first-contact, science-fiction tale with several enticing twists and that you'll still be thinking about it days after you turn the last page. (The sequel is more forgettable — I might skip that one.)
Fire Touched by Patricia Briggs was the most anticipated book of the spring…and it delivered. Yes, it's expensive. Yes, I checked it out of my local library. Yes, I recommend you start with book one instead of Fire Touched. No, I'm not going to say anything else for fear I'll spoil some of the earlier books in what has become my favorite series.
Cinder by Marissa Meyer is the book I'm most torn about recommending to you. On the one hand, this steampunk fairy tale retelling was really fun. On the downside, the cliffhanger was brutal and you have to pay tradpubbed prices for the sequels. I caught Cinder on sale for $1.99 and definitely got my money's worth, but I didn't pony up the cash to keep on reading.
A Dangerous Madness by Michelle Diener is the most urban-fantasy-like Regency romance I've ever read. There's quite an intricate mystery and the heroine definitely has a backbone. And, as I discovered when I hit the author's note at the end, the story is based upon a real event that was the JFK assassination of the day. So the book will definitely get you thinking!
How about you? Any truly amazing books you've read recently that you want to share with the world?