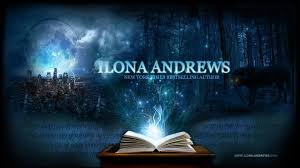 Ilona Andrews is one of my favorite authors…or, actually, two of them. This husband/wife duo create the perfect blend of action, fantasy, and romance in their Kate Daniels (urban fantasy with a side of shifter), On the Edge (urban fantasy/paranormal romance mixture), Hidden Legacy (romantic urban fantasy with a witchy cast), and Innkeeper (sci-fi-ish/urban fantasy) series.
If you haven't already, you should definitely read them all. But then what do you dive into? Here's what some of their fans have to say:
Patricia Briggs gets the most votes (including mine!).
Anne Bishop is a close runnerup. It took me forever to look past the cover and try out her Others series. But when I did I was blown away!
Nalini Singh is a sister author if you like a little more romance.
And after that it's a tossup of whether you should move on to Faith Hunter, Devon Monk, Seanan McGuire, Jim Butcher, Rachel Aaron, or Karen Marie Moning. Or any of the dozens of other authors whose books fill urban-fantasy bookshelves today.
In fact, it made my day when a reviewer compared my Moon Marked series (the first book of which is free) to Ilona Andrews. Maybe someday I'll live up to that compliment! In the meantime, I'll just keep reading their witty prose.